Why Is a Full-Service Digital Creative Agency Important?
How does a business choose the right digital marketing agency to hire in 2020?
Social media attracts a wealth of potential customers, with Facebook hosting 2.6 billion active users alone. Sixty per cent of mobile owners use Google's search results to make a business contact.
Website and social media advertising are crucial to reach new audiences but it doesn't stop there.
Customer relationship management and PPC marketing all require proper strategy and implementation. Many companies believe they need several agencies to manage each service. But do they?
This article examines how a full-service digital creative agency is the right choice to promote a business brand.
We explain what a full-service agency is and what they do. The benefits of hiring a full service web agency. And how working with a multi-talented marketing team can help target the right audience.
Read on to discover the best way for any size of business to market themselves effectively online.
What Is a Full-Service Digital Creative Agency?
Digital marketing encompasses all types of online promotion to drive sales.
From website advertising and pay per click marketing to managing social media, digital marketing covers many bases. Business can choose to handle promotion in-house but most opt to hire a creative agency to do it for them.
Why? Because agencies offer:
Current market research
Project and campaign management
Data analysis
Automation and software development
Smaller businesses especially can't afford to employ staff to do everything so they hire experts who can. But then they run into the issue of who to use: a niche company or a full-service online marketing agency.

Niche vs Full Service Digital Agencies
A niche agency specialises in one area only, like search engine optimisation or social media.
An SEO agency will concentrate on keyword selection, content optimisation, and backlinks to make a site rise up Google's results. But ask them to run an emailing marketing campaign and they'll pass the work on to some other firm.
A full-service agency broadens that portfolio by offering a range of services under one roof.
Their staff has the experience and expertise to work with any type of digital marketing requirement. That includes strategy as well as implementation.
Everything is handled through one team who plans and sequences the full marketing stack. This leads to an integrated holistic outcome and the client knows they have every base covered.
Digital Creative Services
Digital marketing agency services cover a wide net.
We at REBORN categorise them into connections, or how we reach our clients' customers. And we recognise the importance that emotion and intelligence play in the creative and marketing mix.

Build Emotional Connections
Building trust begins by connecting a brand emotionally to a potential customer.
The goal is to produce content that resonates with a person's sense of self. Creating the right stories and designs will influence behaviour when it truly connects.
That needs to show in every type of service offering including:
Strategy and planning
Creative campaigns
Content and social media marketing
The team who births the idea should also produce it.
Their passion will drive the project forward instead of an external team taking control of the wheel. One wrong turn and the campaign can end up far from its original vision
Customers who see or hear the right marketing message will ultimately feel it.
Yet to hone and funnel that emotion into business results takes constant evaluation and editing. And that requires intelligence.
Marketing Through Intelligence
Managing a great idea doesn't stop when an advert or tweet is distributed online.
A good agency uses customer relationship management (CRM) tools to track a campaign's effectiveness. The best agencies also listen to what customers want through data analytics.
Yet it takes a full-service provider to be able to offer the likes of SEO and automated marketing as they're required. No time is wasted handing-off work to a third-party.
For example, a full service web agency can create new landing pages based on PPC data. They can build automated contact forms that channel requests in real-time. Those in turn tie with the overall marketing strategy.
Full-service providers combine emotion with intelligence to reach customers. But what other benefits do they offer?
Benefits of Hiring a Full-Service Digital Creative Agency
Below are 3 ways a full-service marketing agency can help a business promote their brand online.
1. Multi-Channel Promotion
Agency team members each have a speciality in online promotion. Put them together on the same project and every base gets covered.
This expansive approach guarantees a unified vision too. And that's essential when running several campaigns at once.
2. Reduce Costs
At a time when optimism about the economy is low due to the pandemic, hiring a digital creative agency can actually reduce costs.
There's no payroll to worry about. No statutory sick days or having to update skills. A business only pays for the services they need.
By choosing a full-service provider, companies don't waste time having to shop for several services. That means less getting sidetracked on finding the right team and more focus put on running the business.
3. Consistent and Scalable
Hiring an agency that provides all services results in a consistent approach over time.
Nothing gets diluted. And as a company grows, the agency can scale with it because of their in-house talent pool.
If additional services are needed, the creative provider will add them to the team.
A One-Stop-Shop Digital Creative Agency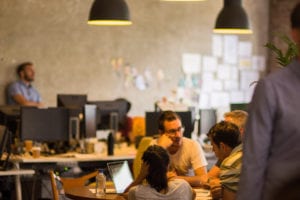 A full-service digital creative agency hosts a wealth of talent within one core group.
Hiring a marketing team who can offer a range of services from strategy and design to hiring and analysing makes sense. When combined, their knowledge and expertise produce the best results at a quick pace.
REBORN is a global team of multi-disciplinary marketing professionals.
Our staff are passionate digital content creators, marketers, and storytellers. We focus on what makes a customer human: their emotions and their intellect.
Our strengths lie in our unified diversity. We offer strategic marketing campaigns along with performance media and social media advertising. Our customers know they have every base covered because our team can do it all.
Want to speak with us?
Contact our team to see how REBORN can help. Our portfolio is brimming with satisfied clients so start working with our digital creative agency today.
With offices in the UK and Australia, let us show you how we can help make your business grow.